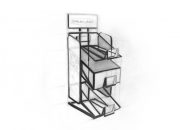 Our offer, which comprises advertising and technical advice in relation to designing POS materials and their manufacture, is directed at all distributors and manufacturers of industrial and foods products, operating in direct and indirect distribution channels.
It is possible to display every market product in the sales point. That's why companies come to us from various sectors, from typically industrial – manufacture of building materials, clothing, electronics, cosmetics, pharmaceuticals – to the foods – FMCG.
Various sectors require different approaches to the display of a product. Stands for bags of gypsum coating and stands for lollipops will have the same function, e.g. a feeder.
However in each of the two cases we apply different:
structural solutions;
visual methods to evoke interest in the target group;
location in the available space in the sales point area.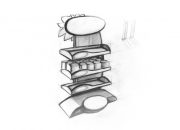 The design principles for POS materials for different distribution channels also vary – a stand for crisps in a supermarket has different visual and structural characteristics to the same stand for the same product which is to be located in a local housing estate shop with a surface area of less than 50m².
Cooperation with our Company does not only involve cooperation with the producer of POS materials, but also in a certain sense, the design department, tool room, prototype room, production line, packing department and dispatch department. In coming to us you are commencing cooperation with a Company which is familiar with the market, and therefore we will assist you in the induction of your assumptions for the POS campaign.